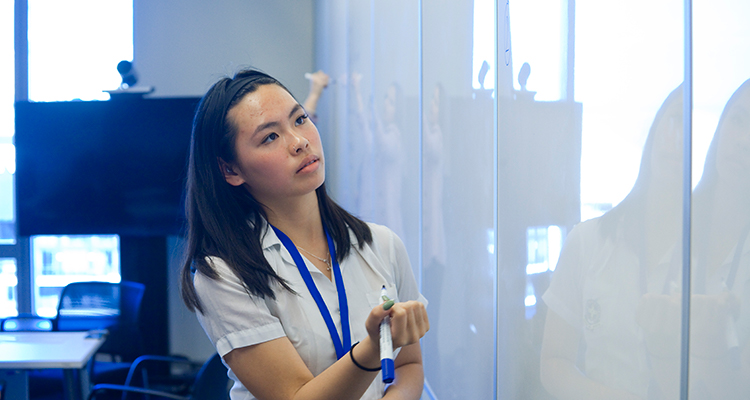 The Winter Program launched last week for Year 12 students will provide a new pathway for equitable access to university.
Year 12 students from across NSW logged in to experience UNSW's first digital outreach program from 6 to 10 July. The week-long academic enrichment program provided important HSC revision and exam preparation to students from low socioeconomic status (SES) backgrounds and from disadvantaged schools. Almost 200 of the more than 850 students who attended are from regional NSW and 22 identify as Aboriginal and/or Torres Strait Islander.
"The UNSW Gateway Program is a whole university effort to increase enrolments and improve the progression and success of equity cohorts. This program is our primary means for reaching the strategic target to increase our low-SES access rate to 13%," said Mary Teague, Director, Access and Equity (Students).
"It is very much an early engagement tool that is designed to extend across the whole student life-cycle at critical transition points."
The inaugural Gateway Winter Program was delivered in partnership with current UNSW ambassadors who played a key role in the design and delivery of the Program. Year 12 students accessed intensive HSC subject support and were able to chat live with HSC and university experts, who provided virtual insights to the HSC exams and the first-year UNSW experience.
"We hope that many students who experienced a lack of face-to-face learning this year will benefit from the personalised HSC support offered through the UNSW Gateway Winter Program," President and Vice-Chancellor Professor Ian Jacobs said.
"The Gateway Program encourages peer-to-peer discussion and learning, helping students to build connections with each other and discover whether UNSW is the place for them to continue their studies."
Year 12 students have had an unprecedented disruption to their schooling year because of COVID-19. Students at UNSW Gateway schools will have experienced a greater educational disadvantage, as students from low-SES backgrounds are likely to have learnt at about 50% of their usual rate due to remote and disrupted learning. Students who are behind in their schoolwork are also likely to struggle working independently.
"I chose the Gateway Winter Program to hopefully help me in getting my momentum back and make studying a little easier. I have strong ambitions and big plans but I feel like I need just a little support in achieving those goals," said Samantha Taylor-Monzer from Northlakes High School.
The Program is also key in assisting students to apply for an early conditional offer to UNSW through the Gateway admission pathway. This is UNSW's first early conditional offer admission pathway for students in Years 11 and 12 and is the primary means for reaching 2025 Strategic target low-SES access rate. It is widely acknowledged that HSC performance correlates directly to socio-economic status, and that it is a structural barrier for students from low-SES backgrounds gaining admission to Go8 universities. The Gateway early conditional offer is a first step in understanding how other measures adjunct to ATAR may be used to indicate students' potential and readiness for university.
"An early offer from UNSW would be an absolute dream. It would help take some of the pressure off myself knowing that I have an offer from UNSW. UNSW has some of the best degrees in Australia, so I would be ecstatic if I got accepted," said St Marys Senior High School student, Madalyn Hyde.
Gateway early offer admission pathway applications close 3 August 2020.
For more information, please visit: gateway.unsw.edu.au.
Comments