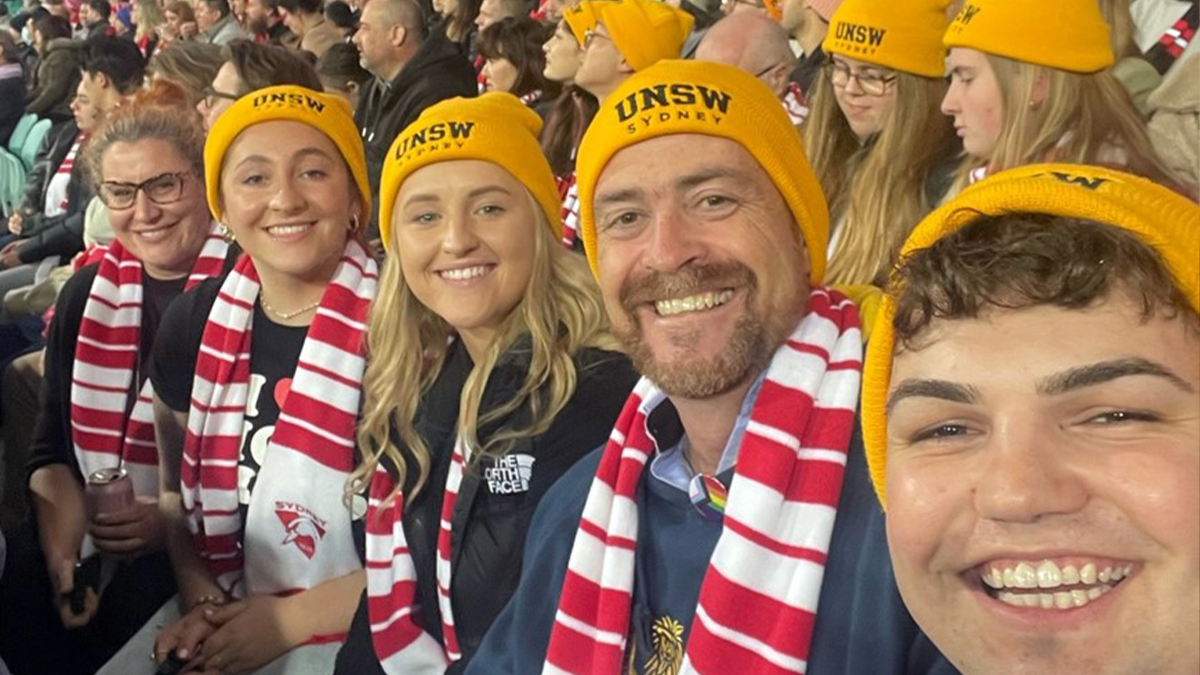 Dear colleagues
I am very much looking forward to hosting the Vice-Chancellor's Awards this afternoon. These awards celebrate our colleagues not only for their impactful work, but for the way they embrace UNSW values such as collaboration and respect. This year we had the most nominations ever – more than 470! – which clearly indicates a strong collegial spirit and enthusiasm for recognising our peers' great work.
Staff Town Hall wrap-up
Thank you to the thousands of staff who joined the all-staff Town Hall last Wednesday.  Chief HR Officer Deena Amorelli and I shared detailed results of the first phase of the Insight staff survey including areas of strength and opportunity, as well as a clear timeline for action. We also provided updates about the Enterprise Agreement process and University finances, respectively. Thank you to all who asked questions during the Q&A session. There were more questions than we had time to answer during the forum, but similar to the last two Town Halls we shall answer all of them and get back to people in the next couple of weeks. You can read a full re-cap of the Town Hall here.
School visits' invaluable insights
Thank you to the thousands of colleagues who hosted me during my first round of visits to all our Schools, which I completed recently. These visits were invaluable in helping me to understand the priorities and issues of each School, but also gave me insight into where ideas and concerns converged across the University.
Some common themes that emerged were the need for simplified systems, policies and procedures and increased administrative support, which we are working to address. UNSW's positive impact on society through research and knowledge translation was an overwhelming source of pride, as was the University's commitment to ensuring a positive student experience.
Thank you for your candour and for welcoming me so warmly. Your feedback contributed to establishing the six S25 Focus Areas: Improving Student Experience, Scaling Lifelong Learning, Research Excellence and Translation, Societal Impact Momentum, Supporting Our People and Community, and Simplifying/Upgrading University Systems.
These Focus Areas are the backbone of the UNSW Operational Plan 2023. The Operational Plan, the result of collaborative planning sessions with senior leaders in March, sets priorities and concrete actions for the year ahead. If you've not yet seen the UNSW Operational Plan 2023, please ask your manager to share a copy with you.
I'll be sharing news about the progress of priority initiatives in my newsletter.
Making an impact in sustainability
I am excited to share UNSW has ranked 18th in the world in the 2023 Times Higher Education Impact Rankings, jumping 37 places from last year. The Impact Rankings measure global higher education institutions' progress towards the UN's Sustainable Development Goals (SDG). These impressive results demonstrate UNSW's strong sense of commitment to environmental sustainability and embedding SDG thinking throughout the University.
I invite you to read our 2022 Environmental Sustainability Report too, which was released on World Environment Day.
King's Birthday Honours
Congratulations to all the members of the UNSW community who were awarded King's Birthday Honours on Monday. These honours recognise the outstanding contributions of people who are often the most unassuming, quietly dedicating their lives to improving the world around us. Thank you to our honourees for your exemplary service.
UNSW Annual Report 2022
The UNSW Annual Report 2022 is now available, featuring an extraordinary breadth of achievements and impacts – it is truly impressive reading! Thank you to everyone who contributed to our accomplishments in the past year and to the team who created our Annual Report which is an accomplishment in itself.
Aboriginal and Torres Strait Islander Staff Forum
In the lead-up to a new DVC / PVC Indigenous commencing, I hosted a lunch forum with UNSW Aboriginal and Torres Strait Islander staff earlier this month. I was grateful for the opportunity to hear and learn more about how our University can best support UNSW Aboriginal and Torres Strait Islander staff, students and communities. We discussed the UNSW Indigenous Strategy and the Future priorities in Aboriginal and Torres Strait Islander education report that was prepared by Associate Professor Brett Biles and Professor Kyllie Cripps.
At the heart of our conversation was how we can make sure that the UNSW Indigenous Strategy is central to everything UNSW does and that everyone in the University community plays a role in the strategy's success. It was a valuable discussion that will help set some of the focus areas when a new DVC / PVC Indigenous begins.
Thank you to all colleagues who attended the forum and shared their views and experiences. I'm looking forward to more conversations about how we can crystalise our vision and aspirations and then, as is always top-of-mind, how we make sure we deliver and be accountable for our objectives.
AFL Pride Match
Last Thursday, I joined 500 UNSW students to cheer on our partners, the Sydney Swans, at the AFL's Pride Round match. The Swans were unable to take home the win against St Kilda, but it was still a fantastic evening and I enjoyed getting to know some of our students (that's me in the photo at the top of the page with of course our wonderful Arc CEO, Shelley Valentine (left), awesome Arc Chair, Oliver Pike (right), as well as Kelsie Mitchell and Emily Thompson).
At UNSW we want to foster an environment where everyone feels valued and supported. The AFL Pride Round highlights the importance of creating a truly inclusive society that celebrates diversity and the work that still needs to be done. UNSW has an excellent partnership with the Sydney Swans, with 13 Swans players in the AFL and AFLW currently studying at UNSW under our Elite Athlete Program. Read more on the UNSW Sport website.
Nowra MICROfactorie™ not your typical waste depot
I had a great visit to the MICROfactorie™ at the West Nowra Recycling and Waste Depot with UNSW SMaRT Centre's Scientia Professor Veena Sahajwalla and Anirban Ghose (see photo below). To say I was blown away at what they and their partners have achieved is an understatement! The MICROfactorie™ at West Nowra is harvesting waste from items that aren't traditionally recycled – like broken glass and textiles from mattresses – to produce 'green ceramics' to use for kitchen benches, tabletops and tiles. They are working hand in glove with the local council creating one of the most innovative recycling and waste processing centres globally. It's an incredible outcome for environmental sustainability.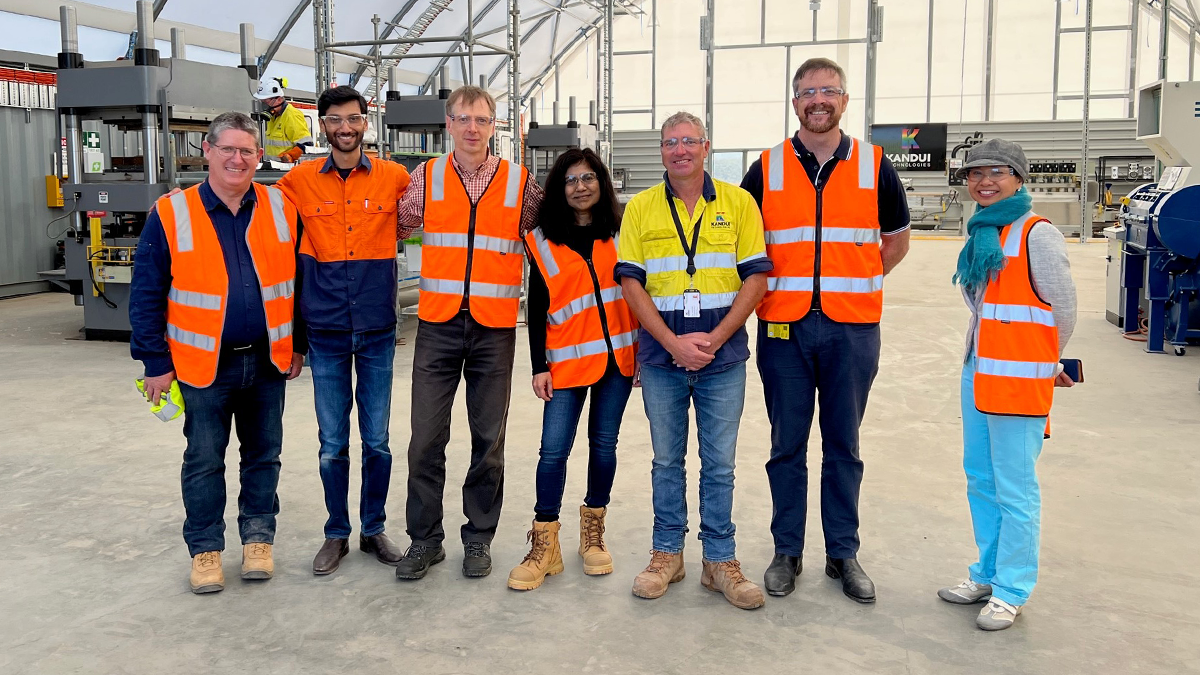 Up in the cloud with UNSW and AWS
The inaugural UNSW and Amazon Web Services Cloud Innovation in Higher Education event at the Roundhouse was a great success. Almost 700 students, staff and researchers attended, learning more about how cloud technology can solve key challenges and increase productivity. It included an expo with 14 leading technology organisations – and potential employers, a cloud technology training session and cyber security workshop, and time with the record-winning SunSwift team and the car itself. Congratulations to all for an excellent cloudy day.
Appointments and farewells
I'll conclude this week with congratulations to all our nominees in the Vice-Chancellor's Values in Action Awards. I look forward to bringing you a wrap of today's event in the next edition of Inside UNSW.  
Best regards,
Attila
Professor Attila Brungs
Vice-Chancellor and President
Comments