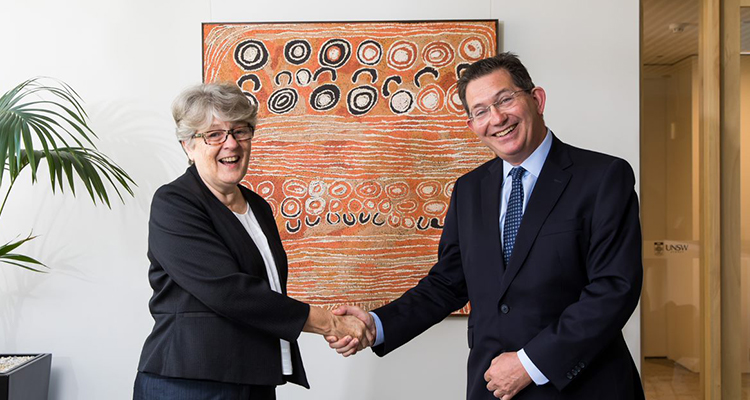 Dear colleagues
Earlier this week, it was my great pleasure to announce the appointment of Professor Anne Simmons AM [pictured] as the inaugural Provost of UNSW. Anne's long association with UNSW dates back to 1979 as a Biomedical Engineering postgraduate student and later a PhD student. After a career in industry, UNSW was lucky to have Anne return as an Associate Professor in 1999 before her promotion to Professor of Biomedical Engineering in 2010. Anne's outstanding skills and leadership qualities made her an ideal fit for the Provost role. She will be a member of the Management Board and will have responsibility for our faculties and service enhancement team. On behalf of the UNSW community, I offer Anne our congratulations and best wishes.
Last Friday was a big day for UNSW and for children's health with the announcement of a $608 million investment in Australia's first Comprehensive Children's Cancer Centre and the extension and refurbishment of the Children's Hospital at Randwick. The Federal and State Governments are the major funding partners, with UNSW, Sydney Children's Hospital Foundation and the Children's Cancer Institute all contributing to this transformational project. My congratulations and thanks to all involved. Professor Michelle Haber of the Children's Cancer Institute at UNSW, A/Professor Tracey O'Brien of the Kids Cancer Centre at Sydney Children's Hospital and Professor Bob Clarke, Senior Academic Advisor in my office, are to be applauded for their skill in securing the support of government and for putting together the case for this important development. It is a wonderful result which is another key step in realising the vision for our Randwick Health Precinct to integrate education, research and healthcare in a globally leading environment. If you take a look from across Botany Street, you will see that the site has now been cleared so that building can commence. The total investment now committed for our UNSW translational health hub, the adult hospital and children's development exceeds $1.5b.
Congratulations to everyone – students and staff – who contributed to UNSW's colourful presence at the Mardi Gras parade on Saturday. Months of preparation went into designing and constructing the UNSW float which resembled our mascot, Clancy the Lion, who led our 'UNSW Pride' through the parade. The float was constructed by students at the Willis Annexe and assembled on our Paddington campus. From all accounts, the parade was a joyous celebration of our city's support for the LGBTIQA+ community and the steadfast commitment of its people and institutions to diversity and inclusion. You can read more about the UNSW presence in this edition of Inside UNSW.
On Sunday I was fortunate to hear Margaret Atwood, acclaimed author of many books including The Handmaid's Tale, speak at the Sydney Opera House at an event hosted by the UNSW Centre for Ideas. Atwood's work is experiencing a renaissance worldwide as her themes of women's empowerment and political extremism are becoming ever more relevant. She managed to mix humour with thoughts on her writing career and the reception of her work in the MeToo era. It was an entertaining and thought-provoking start to the week.
The momentum continues to build as we head into International Women's Day tomorrow. I'd like to acknowledge our DVC Equity, Diversity and Inclusion, Professor Eileen Baldry, and all in her team, for their leadership in promoting diversity across UNSW and I encourage you to read Eileen's reflections in this edition of Inside UNSW. I also want to thank our new Gender Champions, Associate Professor Janelle Wheat and Associate Professor Adrienne Torda, who have done a terrific job in bringing together a range of events, including tomorrow morning's special IWD breakfast, focusing on the importance of equality at UNSW. The theme this year #BalanceForBetter is an important reminder that many areas of our society still consistently and significantly undervalue women's experience and expertise. We know from research that inequality in workplaces perpetuates unbalanced and sub-par decision making, and yet legacy structures and institutional biases make behaviours very difficult to shift. Universities have an important role to play in leading by example as both an employer and as a place to educate and shape minds. The gender pay gap is one of the issues that UNSW is concerned to address.  
Thank you to everyone who represented UNSW at the Universities Australia Higher Education Conference 2019 in Canberra last week. Many at the conference, including Universities Australia Chair Professor Margaret Gardner and Shadow Education Minister, Tanya Plibersek, made a strong case for both greater funding certainty for research and a wide-ranging review of post-secondary education. With elections looming, the conference was an opportunity for our sector to make the case for much-needed improvements to the higher education policy landscape.
There was positive news for UNSW in the recently released QS discipline rankings, with UNSW ranked the best university in Australia and New Zealand for Engineering and Technology. This followed the release of the Times Higher Education 2019 Asia-Pacific University rankings list during the THE Research Excellence Summit two weeks ago, which highlighted the rapid rise of universities in Asia. Many of the universities participating in the Summit were represented in the list and joined UNSW amongst the highest ranked universities in the region.
I was excited to hear that the National Drug and Alcohol Research Centre (NDARC), here at UNSW, has been awarded $12 million over three years by the Federal Government. This funding will provide certainty for the Centre, to build and strengthen its important work researching the extent of harm caused by alcohol and other drugs, and the effectiveness of treatments and interventions. It is not easy to secure this level of funding and is testament to the persistence and professionalism of Professor Michael Farrell and the team. Congratulations.
Another encouraging development for research at UNSW has been the announcement by the NSW Chief Scientist & Engineer, Professor Hugh Durrant-Whyte, that UNSW will be home to a new NSW Circular Economy Innovation Network, headed up by Scientia Professor Veena Sahajwalla, and linking researchers with industry and government. The Network will take on an important leadership role in creating new value in discarded materials that might have otherwise ended up in landfill.
Well done to two of our outstanding scientists who have received honours from the Australian Academy of Science. Scientia Fellow Dr Laurie Menviel from UNSW's Climate Change Research Centre and Dr Daniel Falster of the Evolution & Ecology Research Centre were among 20 top Australian scientists to receive a medal of recognition for their research. You can read about their work and achievements here.
Congratulations also to Associate Professor Elizabeth Angstmann, Faculty of Science, and Dr Kim Snepvangers, Art & Design, for being honoured in the 2018 Australian Awards for University Teaching last week. Both were successful among a competitive field of applicants and were awarded for their outstanding contributions to student learning – Professor Angstmann in physics education and Professor Snepvangers in art, design and media. Well done, both.
There are a few noteworthy student achievements to mention. Nicole Ee from UNSW Science and Jaffly Chen from UNSW Medicine have been awarded prestigious Westpac Future Leaders scholarships to undertake their postgraduate studies. Both will also receive a nine-month bespoke leadership development program and the opportunity to study abroad. UNSW Engineering student, Jessica Athayde, has won the Institute of Transportation Engineers Australia and New Zealand (ITEANZ) Undergraduate Award. You can read more about Jessica's award here.
Finally, you will recall my message two weeks ago about the sad passing of former UNSW Vice-Chancellor, Sir Rupert Myers. Family and friends are warmly invited to attend a memorial service to celebrate his life and outstanding achievements at 1pm on Monday 11 March at Leighton Hall, John Niland Scientia Building.
Best wishes,
Ian
Comments