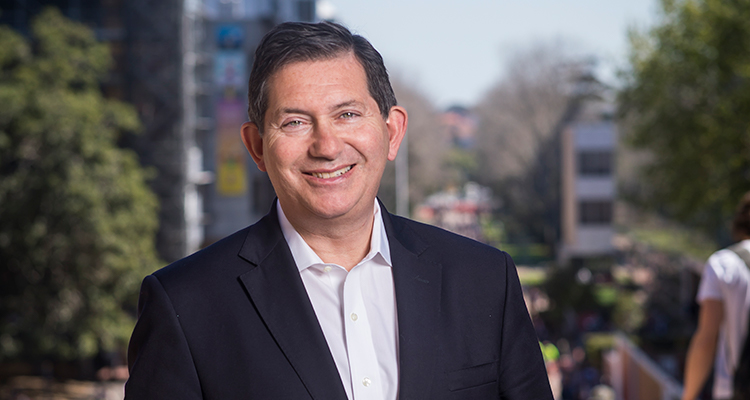 Since last I wrote, there have been a number of honours and awards conferred upon worthy members of the UNSW community.
Our annual Alumni Awards, the Queen's Birthday Honours, achieving Gold Employer status in the Australian Workplace Equality Index: these are all testament to the achievements of our students, staff and alumni who live the UNSW spirit of 'Knowledge by Hand, Mind and Heart' and in so many cases have carried that spirit beyond our campus to the benefit of communities around the world.
These achievements, and those of all our Divisions and Faculties over the past few months, demonstrate not only resilience in the face of such upheaval this year, but our continuing dedication to improving lives.
In my message this week I have highlighted just a handful of examples of the fine work that continues throughout our University. I hope that you will, like me, be in awe of our inspiring colleagues.
Today at 1.00pm, we are hosting a Taskforce 20/21+ virtual forum for all staff. The agenda will focus on the more than 3,000 responses we received from staff on the four Taskforce 20/21+ working group themes of Horizons, Recovery, Faculties and Divisions. The discussion will be led by the four working group Chairs. You can register here to attend today's event if you have not registered already.
The working groups will produce recommendations by the end of June and I will share the plans that emerge with you in July, ready for implementation in the latter half of this year.
UNSW community members' honours and awards
In the past fortnight the contributions that many UNSW students, staff and alumni have made to the betterment of society, locally and globally, have been recognised with well-deserved honours and awards.
I am delighted that our Deputy Vice-Chancellor, Research, Professor Nicholas Fisk AM, and esteemed alumna, Ms Naomi Milgrom AC, were among more than 20 members of the UNSW community recognised in this year's Queen's Birthday Honours List. Professor Fisk was made a Member of the Order of Australia for significant service to tertiary education, and for his stellar contribution to maternal-fetal medicine. Ms Milgrom received the highest civilian honour, a Companion of the Order of Australia, for eminent service to the community through philanthropic leadership and support for the promotion of the arts, architecture, design excellence and cultural exchange, and to business. Congratulations to all our worthy honourees.
UNSW celebrated some of our best trailblazers and transformers in our annual Alumni Awards last week. We have more than 300,000 alumni throughout the world, many playing pivotal roles in society. This year's Alumni Awards recognised seven individuals who have been instrumental in tackling the enormous challenges of our time. Congratulations to our winners for your tenacity, your ingenuity, and your commitment to changing our world for the better. It is marvellous to see the UNSW spirit of serving our community carried beyond our campus and having positive impacts here in Australia and across the globe.
Workplace Equality Awards
You will be pleased to hear that UNSW has achieved Gold Employer status in the 2020 Australian Workplace Equality Index in recognition of our commitment to gender-, sex- and sexuality-diverse (LGBTIQ+) inclusion among our students and staff. Our jump from Bronze in 2019 to Gold this year demonstrates the support of our community for the work and leadership of our Division of Equity, Diversity and Inclusion, led by Professor Eileen Baldry; and UNSW Diversity Champion LGBTIQ+, Dr Bridget Haire. The diversity of our students and staff is one of UNSW's great strengths, and I am proud of our nationally-recognised commitment to LGBTIQ+ inclusion.
Students share their insights about Term 1 experiences
Having observed the responsiveness and camaraderie of our students and staff over the past few months, I was delighted to hear of the recent student panel discussion hosted by Director of First Year Experience,Professor Richard Buckland, and the Education Focussed team. A mix of six undergraduate and postgraduate students spoke candidly about life and learning during Term 1, in a vibrant, virtual Q&A session attended by more than 60 academic staff. The discussion revealed opportunities to improve online learning practices and to understand what our students value most about their educational experience. Thank you to all who so generously shared their insights in this valuable 'Lunch & Learn' session.
Rapid Urbanisation Population Health Research Network
We are all living the 'grand challenge' of coping through and beyond the pandemic. It is in this context that the UNSW Grand Challenge on Rapid Urbanisation, led by Built Environment's Professor David Sanderson, launches the Rapid Urbanisation Population Health Research Network in partnership with Associate Professor Xiaoqi Feng from UNSW Medicine. The research network will build trans-disciplinary research capacity in urban health and environmental issues, in Australia, Asia and Western Pacific regions. Interested academics are invited to express interest in joining the network.
Universitas 21 Researcher Resilience Fund submissions open
Resilience has become an almost universal mark of character this year as existential challenges have been issued from multiple corners: bushfires, floods, climate change, the pandemic. Our research students and staff have shown extraordinary resilience in adapting to research practice in a distanced, virtual environment as we have responded to the challenge of COVID-19, in particular. To assist PhD and early-career researchers to build their capabilities for research in the post-pandemic world, Universitas 21 has launched the Researcher Resilience Fund. Submissions close on Monday, 22 June 2020.
Farewell
This month UNSW will bid fond farewells to two outstanding Professors and leaders who have made tremendous contributions to our University over many years: to education, to research, and to our esprit de corps.
In a career spanning more than 40 years, Professor Rodney Phillips has had a remarkable impact on the world's understanding of HIV/AIDS and other infectious diseases. After 35 years in the UK he returned to Australia: UNSW was privileged to appoint Rodney Dean of Medicine in mid-2015, and then our Pro Vice-Chancellor, Health, last year. You can read more about Rodney's contribution to UNSW here. I will miss Rodney's wise counsel and am particularly grateful for his contributions to bringing the George Institute into the UNSW family, creating and developing SPHERE, and driving the development of the Randwick Health Precinct.
We will also miss the stellar career and contribution of Professor Bruce Henry, who will retire as Head of the School of Mathematics and Statistics in December. Bruce has taken the School to great heights, including galvanising UNSW's position at the top of Mathematics rankings among Australian universities, pioneering online education, and supporting women in STEM – the first three women promoted to full Professor in Mathematics and Statistics at UNSW attaining those ranks during Bruce's tenure. Bruce, though Head of School for the past eight years, has been a member of the UNSW community for more than 40. Over those decades he has made an indelible mark on our University. I wish Bruce well for his final terms at UNSW and beyond.
I am delighted to let you know that both Rodney and Bruce will be bestowed with Emeritus Professor status and will remain valued members of the UNSW community.
I wish all our students and staff well as we get into the swing of Term 2. Thank you to all who are working hard to return some of our campus operations to some semblance of 'normality', and for the patience and camaraderie of all who are continuing to adapt to a blended education, research and working environment.
Please remember if you need support, free, confidential counselling is available through our Employee Assistance Program. The service is also available for immediate family members. Assistance for our students is available via The Nucleus on 02 9385 8500 and our Student Support Advisors.
Take care and stay well.

Ian
Comments